Advanced security in the palm of your hand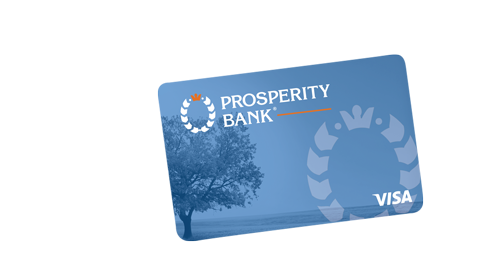 Visa® Classic
Perfect for everyday or special purchases
A great choice for first-time credit card users or for those transferring a balance.APPLY FOR A CREDIT CARD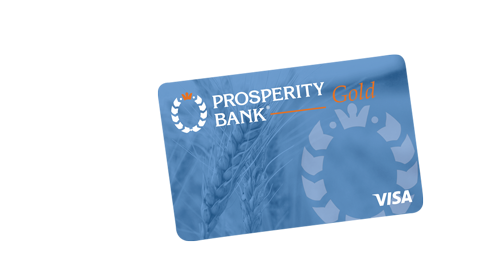 Visa® Gold
extra buying power FOR those who desire a little more
Plus, you'll enjoy benefits such as travel and emergency assistance.APPLY FOR A CREDIT CARD
Payment Options
Using one of our convenient options, you may choose to pay your Prosperity Bank Visa® card in full or the minimum payment each month.
Pay by phone at:
Mail your payment by check to:
Dept. #350 | P.O. Box 21228 | Tulsa, OK, 74121-1228
or you can pay your bill online
How it works
Built-In Benefits
Auto Collision Damage Waiver
Travel Accident
Warranty Manager Services**
Get a Cash Advance at your local Prosperity Banking Center or ATM1
Low Annual Percentage Rate
Fixed APR, not an introductory rate.
Grace Period
A 25-day interest-free grace period on purchases2
No finance charges will be assessed on new purchases if the full balance is paid by the payment due date shown on your monthly statement.
Revolving Balance
If you carry over a balance each month, the APR will be in effect. Your statement will reflect the minimum payment that is due.
Balance Transfer Provision
Consolidate your debt into one simple payment.
Eliminate additional monthly fees.
Eliminate high-interest rates you may be paying on your other cards.
Reduce the amount of time it takes to pay off debt.
1. Cash Advance Fees Apply. 2. No grace period on cash advances. Interest starts on the date of the cash advance transaction and continues until paid in full.
To request a copy of your cardholder agreement, please call 1-800-531-1401 or email your name, mailing address, and contact number to
credit.carddepartment@prosperitybankusa.com
. For your protection, please do not send personal account information.
uChoose Rewards Program
With the uChoose Rewards program, you can earn valuable points just by using your Prosperity Bank Visa® Card. You can then redeem points online for a great range of merchandise and gift cards.
$1=1 pointEarn 1 point for every retail dollar spent
+ MoreRedeem points for virtually unlimited options
There is no limit to the number of points you can earn
or call our Customer Service Center at (800) 531-1401 for more information.
Frequently asked questions
What are the advantages of carrying a credit card?
Credit cards are a convenient way to pay for virtually everything you need, from groceries, and clothing to hotel stays and online purchases. A credit card is also a good way to establish or re-establish a strong credit history, which is essential when applying for a car loan, home financing, insurance coverage, and the like.
How is my credit limit determined?
A number of considerations determine the credit limit, including how long you've been employed, credit score, and amount of debt.
What are some of the benefits of the Prosperity Visa® credit cards?
Whether you're traveling, shopping, or dining, a Prosperity Visa® Card will have you covered. Both the Prosperity Visa® Classic and Visa® Gold credit cards offer you these features:
Visa® cards are accepted at merchants around the world
Access cash from 1.9 million ATMs
Automatic enrollment in uChoose Rewards
Advanced security features provide you with optimal peace of mind
General inquiries and assistance is readily available 24/7
Zero liability fraud protection