Bank with Prosperity when you're on the move.
Now, this is fast and convenient. The Prosperity Mobile Banking app gives you instant access to your accounts anytime, anywhere.
Check your account balance
Pay bills
Deposit checks 24/7 quickly and easily. Snap a picture of your check and deposit it through the app
Use with Android, iPhone, or iPad
Convenient deposit cut-off time of 6 pm CST
Quickly check balances with the Fast Balances Widget
Access all the Features of the Mobile Banking

Zelle® Money Transfer
Send money to anyone within the u.s. instantly
Fast & Simple
Send Money to Anyone
Safe & Secure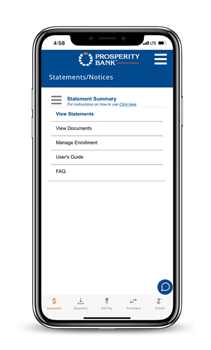 Spending Reports
Monitor your spending habits
View your top expenses for the month
Create savings goals
Create a budget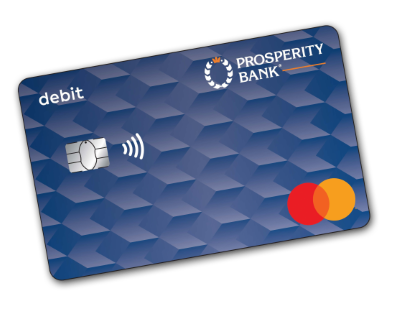 Card Control
Manage your card on the go
Activate and deactivate your cards immediately from the app
Control cards by location
Set spending limits
Frequently asked questions
Will Mobile Banking work on all mobile devices?
The Mobile Banking app is available on many iPhone and Android smartphones. The app is also available on tablets, including the iPad, and most tablets using the Android operating system. You can also use the service on most phones with a mobile web browser that supports cookies. You can download the app directly from the App Store, or Google Play store on your device.
What is the enrollment process?
Enrollment is a one-time process that helps ensure your security. The process for both native and mobile browser Mobile Banking applications requires you to download the application, sign in using your online banking username and password, answer security questions, accept the Terms and Conditions, and enter your device phone number. The enrollment process for SMS text banking requires you to log in to online banking, select the Mobile Management link under the User Services tab, and follow the instructions to retrieve an activation code. The activation code will be required to begin using SMS text banking on your device.
What is Text Banking?
Text banking gives you access to your accounts via text (SMS) messages on your phone. It's a fast, easy way to look up account balances or recent account history by sending a text command to a shortcode.
How much does Mobile Banking cost?
There is currently no charge associated with the service. However, there may be charges associated with text messaging and data usage on your phone. Check with your wireless phone carrier for more information.
What accounts can I access with Mobile Banking?
Mobile Banking allows you to access any of your accounts available with our Online Banking service.